Located near Westwood Village, mysuite at aster has furnished apartments for rent in Westwood that you'll love. Step inside and explore the exceptional smart home features, custom furnishings, and modern finishes. You won't believe the attention to detail and will feel right at home the second you step inside these turnkey homes.
Every furnished apartment is also outfitted with a custom-designed entertainment center, featuring a flat screen TV. The living room love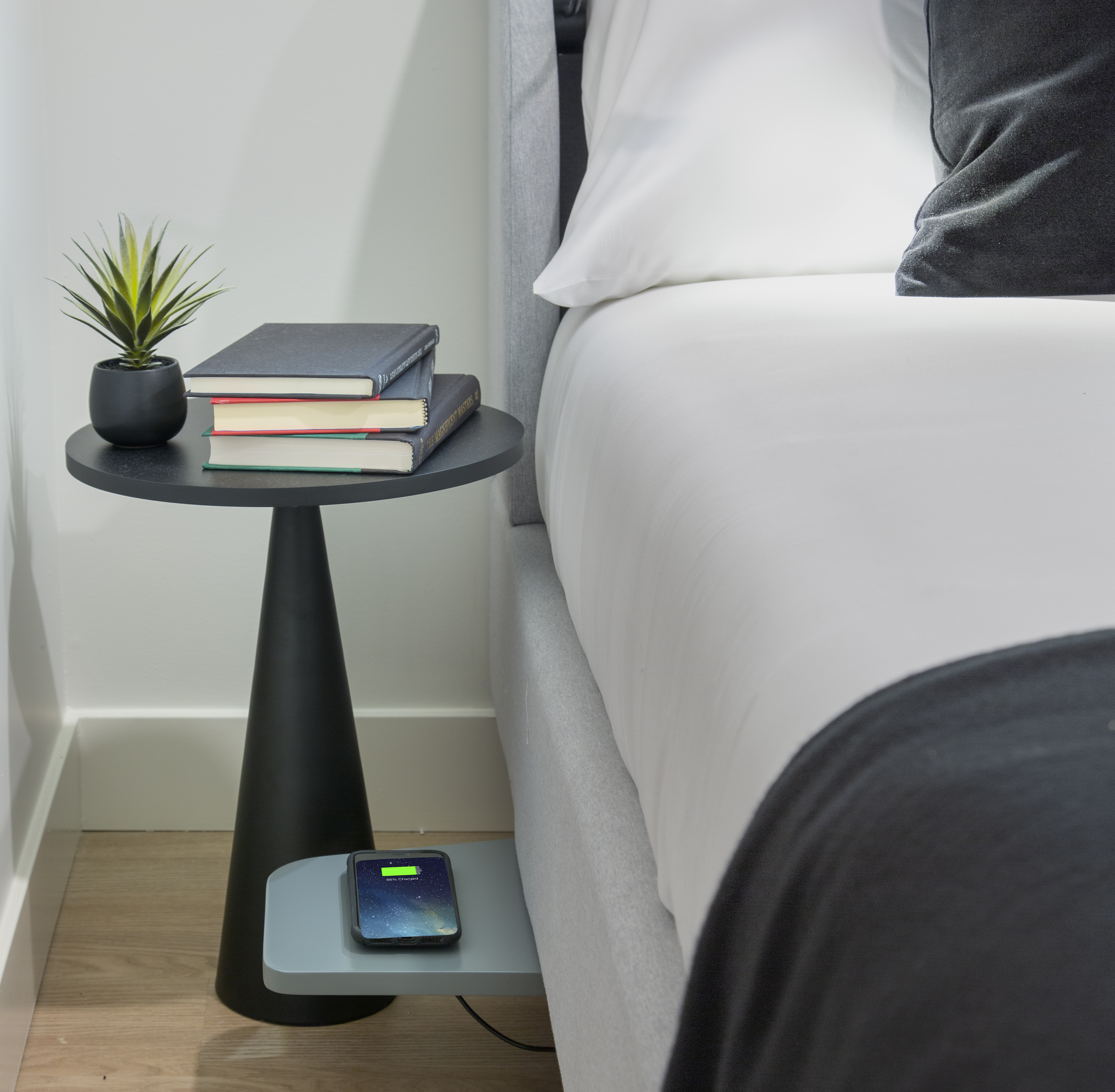 seat comes equipped with built-in USB ports so you can charge your phone or laptop while watching your favorite movies. Additionally, some floor plans also come complete with desks and foldout workstations that offer ample power sources for working from home if need be. No more fumbling around trying to find a good outlet to plug in your charger – mysuite at aster has everything covered.
You can rest easy knowing that our turnkey apartments are full of connectivity – including bedrooms. The underside of each traditional bed features a slide-out wireless charging station you can charge your phone while getting some shut eye – all without needing an additional outlet. The built-in reading light on each side of the bed's headboard will make it easy to snuggle up and read before bedtime. With Wi-Fi and cable free and inclusive in cost of rent, you'll never have trouble staying connected or entertained.
Mysuite offers the highest quality living experience in Westwood. We have everything from cozy bedrooms to chic living rooms, thanks to thoughtful details that you won't find anywhere else. The living room and bedroom is spruced up with accent and coffee tables featuring dark marble and gunmetal grey powder coated steel. These unique pieces give our suites an edgy, modern feel. Contemporary wall décor is dispersed throughout our suites, featuring a curated art collection that reflects the surround Westwood community. Our bedding is as modern and minimalistic as mysuite itself, with cozy white sheets and grey accents. All of this combined creates a sophisticated tone and clean design.
No matter what you're looking for in a Westwood apartment, mysuite at aster has it. We have all of your needs covered–from smart home features to luxurious furnishings. With fully furnished suites and a range of floor plans to choose from, you can be sure that our Westwood apartments offer the best value. Contact our leasing team today to inquire about our luxury Westwood rental community.